Cleaners & Cloth Performance Seal Members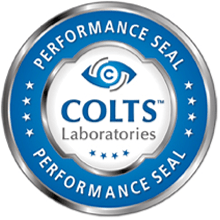 A program designed to recognize and highlight products that have received the COLTS Laboratories Performance Seal. In order to achieve the Seal a product needs to show test results equal to or greater than the 50th percentile of "Like" product. Test data is compared to COLTS Laboratories database for the past three years.
Each product has a specific battery of tests that are performed every 12 months to insure peak performance and optimal process control. Once the Seal is earned you can use it in your marketing and advertising.
Please contact Greg Williams, gwilliams@coltslabs.com for details on how to get the Seal for your product.